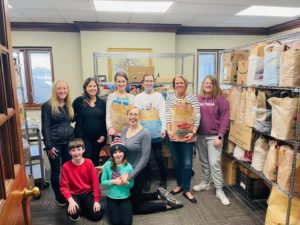 The Feeding Hope Food Pantry ministry provides distribution of groceries to members of the community who are income eligible to receive food assistance based upon current federal poverty guidelines.
In 2021, The Junior League of Akron collected more than $600 in donations for the food pantry through fundraising events.
In March 2020, food for almost 16,900 meals was provided to 1,408 people in 480 families.
In 2019, food for 153,000 meals was provided to 12,700 people. Of those, 33% were children and 19% were seniors. Most of the items distributed are ordered from the Akron-Canton Regional Foodbank (nearly 207,000 pounds in 2019), but items are also donated by Walmart and baked goods received from Panera and Giant Eagle. Over 900 pounds of fresh produce was received from our Feed My Sheep Garden in 2019. Personal care items, in addition to food items, are donated by individuals.
The Food Pantry is a Network Partner of the Akron-Canton Regional Foodbank and participates in the Foodbank's strategic plan to close the meal gap by 2025. The meal gap is the difference between the number of meals that are needed by members of the community and the number of meals they can access. As part of reducing the meal gap, the Food Pantry collaborates with Summit County Department of Job and Family Services (DJFS) to help those eligible receive Supplemental Nutrition Assistance Program (SNAP) benefits. A DJFS Case Manager is available at the Food Pantry on the 3rd Tuesday of each month to answer questions, provide SNAP benefit information, and process applications. If approved for SNAP benefits by the ODJFS, people may then receive an Ohio Direction card which may be credited with a modest monthly benefit that can be used to purchase food at grocery stores or farmers' markets.